Moving keeps you in balance
Not exercising could lead to new physical or mental complaints
Walking is beneficial for the entire functioning of the body and plays a key role in any treatment. It is important to keep stimulating your body and mind because not enough movement could lead to new physical or mental complaints. By walking regularly you maintain and improve your muscle condition and reduce the risk of falling or developing other complications.

A stable rollator can reduce the fear of falling and therefore walking feels safer. It not only gives physical support but also mental support to go out and encourages you to move more.
A stable rollator takes obstacles away from you
Chronic disease
Designed not to strain your body and energy unnecessarily.
Rehabilitation
After an accident or a injury a rollator facilitates your healing process.
Elderly
You go out more because you feel safe and have confidence in your body.
Behind the design
'You suddenly notice how important the rigidity of the product is'
Our designers have gone all the way to develop stable rollators that support your movement in the best way possible. A sturdy rollator takes away a lot of pressure from your body and transforms it into stability and great support.
Every detail is there for a reason
You discover the clever benefits of Rollz rollators over time
We have created a design without compromise that does not bring new obstacles nor new complaints. The shape, weight and materials of the frame, position of the handles, size of the wheels, and all the other details were thoughtfully considered so that forces are well distributed throughout the stable rollator. This translates into more comfort and a lighter and smoother experience for the whole body.

We believe every person wants to be independent and move around confidently and in style. This belief can be easily recognized in the functionality and look of all Rollz rollators.
A rollator increases your freedom of movement
Your world can stay as big as you want it to be
Your world could become smaller when getting older, after suffering an accident or if living with a chronical disease from a young age. Slowly but surely you may have adapted to that new reality. At Rollz we want to keep your world as big as you want it to be and a stable rollator can do exactly that.

You might delay the moment of getting a rollator in the same way as some people delay using glasses, only to later discover that wearing glasses actually makes reading much more relaxed and enjoyable. By having a rollator you will experience the same relief and joy going out again because it will make you feel safe, while also keeping you active.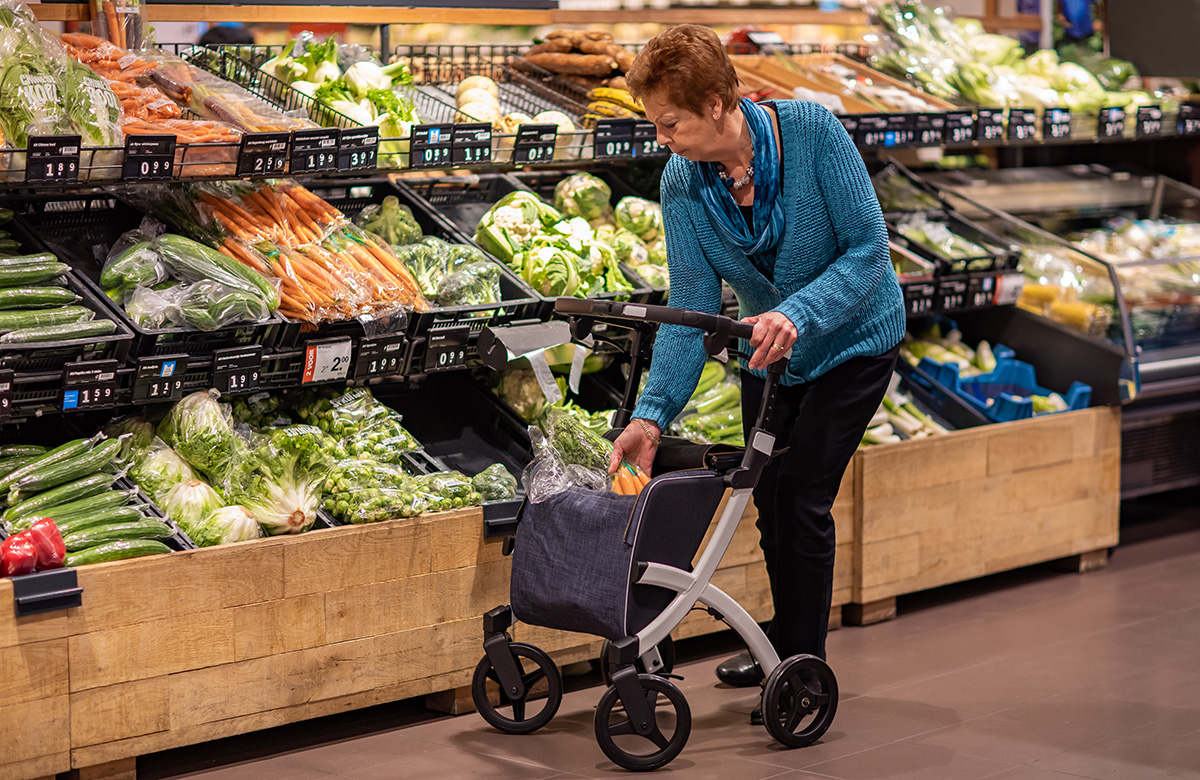 Sweet spot between versatility and ease of use
Rollz rollators give you the confidence to move because our focus was on developing mobility aids that offers great stability and support and are as lightweight as possible. They are easy to steer thanks to the clever positioning of gravity center and wheels. Light to steer and push in general but also with a full shopping bag or as a wheelchair. With a handy small turning circle, easy to maneuvre in tight spaces and elevators.
Raised the bar to being independent and self-reliant
Now and then for whatever circumstance we all become dependent of someone else to do things for us and that is ok. But as humans we naturally want to be able to do as much as we can by ourselves. Running errands, visit a friend in the next neighborhood, join your daughter to the museum or go out for the day with your nephew. Our rollators help you maintain that independence to the level you decide.
How to correctly use a rollator indoors
If you have recently purchased a stable rollator, make sure you learn to handle it safely. This series of six lessons has been designed by Rollz to help you with this practice, by providing tips on the safe daily use of your rollator.
Stability on a cruise ship
'Without the Rollz Flex stable rollator we couldn't have done this cruise at all. Now we could all enjoy this holiday together.'
'It makes me much more independent. Now I also dare to go walking into the city on my own.'